Toothpaste
Toothpaste, the best ally for both your toothbrush and your teeth
This product has been specially made to help us brush our teeth. Apart from the toothbrush, which serves to remove traces of food that may become trapped between the teeth and the molars, we must use a good toothpaste.

Fluoride, the best way to fight tooth decay
An important element contained in toothpaste is fluoride, as this is the best agent to fight tooth decay. You have probably seen your school organising fluoridisation campaigns.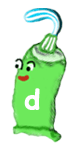 Mercè Camps Miró. Dermopharmacy Representative in the Society of Pharmacists of Barcelona.