What should you do after getting bitten?
After an insect bite, the area around the bite turns red, and becomes swollen and itchy.

What should we do?
| | |
| --- | --- |
| | Tell a grown-up. |
| | Cover it with some cotton wool soaked in water. |
| | DO NOT apply any cream that you're not sure about. |
If you get stung by a bee, remove the stinger it leaves behind as a souvenir, without using tweezers (to avoid spreading the venom).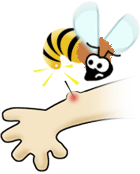 Ticks must be removed whole.
M. Pilar Gascón. Pharmacist.