Where should it be?
The first aid kit should be kept or stored in a place that is neither too hot nor too humid, and protected from light.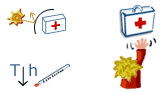 In both schools and at home the kit should be kept out of the reach of children.
IMPORTANT: The first aid kit should always be closed, but should be easy to open. The adults and teachers should know how to open the kit. If the first aid kit is locked, the key should be at hand for rapid opening in case of an emergency.
Carme Capdevila and Mercè Estrada. Pharmacists