What should your school backpack be like?
Your school backpack is your "best friend" for going to school.
| | |
| --- | --- |
| | In the past, there were no school backpack, only school-cases. They served the same purpose, but they were rectangular in shape, made of a much harder material, and had shoulder-straps. However, the children that used them did not have to take as many books as you do, so they didn't carry as much weight on their backs. |
| | So that your back does not "complain", it is important that you know that the best school backpack for you is one with two wide shoulder-straps and a belt for tying it. It should be made of a nice, soft material, and not be too big for you. |
| | If you prefer a satchel that has wheels, try to make sure that the handle can be adjusted to your own height and, especially! Always push it in front of you; never pull it behind you. |
How should you pack your school bag?
Uff! Where are you going with such a full school bag?
First step: Think of what you really need to take to school, and what you don't need.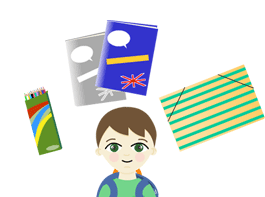 Second step: At the back, that is, against your back, we should put the biggest exercise books, and following this order, from biggest to smallest, we shall get to the outside part, which is where we'll put, for example, the pencil-case. .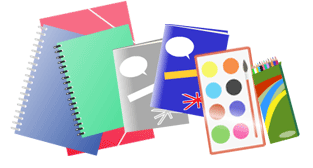 Third step: If your satchel is still too heavy, it would be better for you to carry something in your hands, like, for example, the nicest folder you have!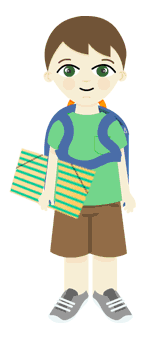 How you should put your school backpack on and how you should carry it
It is very important that you carry your satchel held properly on your back.

When you put the satchel on your back, always put it on the table first, bending your knees and putting on both shoulder-straps, never just one.

Even if your older brother or your best friend carries their satchel on the low part of their backside, you should not! Show that you know how to carry yours correctly on the higher part of your back.
What can we do to "take care of" our backs?
You need to prepare your back by strengthening your muscles.
All the muscles in our body form the musculature. It is very important that we strengthen them so they are well prepared for all the extra effort that we need to make.
Playing sports is a good solution! Think; think…there must surely be some sport that you especially like: basketball, football, swimming, athletics…whatever that sport may be, it will be good for you.

Make the most of your playtime to play anything you enjoy, but not be simply sitting down. That way you move your muscles!

And most of all NEVER STOP PLAYING SPORTS. It is important that you develop very strong, resistant and elastic muscles.
Sitting down correctly is also very important.

Remember that you spend many hours at school and if you do not sit properly, you can end up harming your back.

The correct posture is sitting as far back as possible on your chair, your feet on the floor, and keeping your knees at the same level or above your hips. We should keep our back straight, with our arms and elbows learning on the table.

If you are in front of the computer screen, you should have it at 45 cm away from your eyes, and at your height, or slightly below it.
Author: Centro de Salud de la Columna Vertebral