FIRST AID KIT, three words for a great idea.
You have probably all seen a first aid kit. At home, in school, in the car, in large department stores…
A first aid kit is very useful for special and/or emergency situations.
What is a first-aid-kit?
A first aid kit can be a box, drawer or case containing medicines and necessary health care materials (bandages, cotton, scissors, etc.) to treat discomfort, heal small wounds or cure minor accidents (fainting, falls, cuts, etc.).

In any case, our first aid kit should be correctly identified.
Where should it be?
The first aid kit should be kept or stored in a place that is neither too hot nor too humid, and protected from light.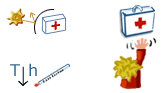 In both schools and at home the kit should be kept out of the reach of children.
IMPORTANT: The first aid kit should always be closed, but should be easy to open. The adults and teachers should know how to open the kit. If the first aid kit is locked, the key should be at hand for rapid opening in case of an emergency.
What should a first aid kit contain?
There can be many kinds of first aid kits. At home and in school the first aid kits are not the same as those found in hospitals or in the locker room of a sports club, though there should be a little of everything at hand in the kit.
What should a school first aid kit contain?
A first aid kit in school, or in summer camp, or for going on excursions, among others, should contain:
Medicines
Health care materials
List of emergency telephone numbers
MEDICINES
Analgesics (aspirin, paracetamol or ibuprofen for pain)
Antifever medication
Antidiarrheic drugs
Cough medicine (syrup or tablets for cough)
Antiallergic medicines
Mucolytic formulations and expectorants
Pharyngeal antiseptics (for sore throat)
Antiseptic eye drops
Ointment (for sores without open wounds)
Antiseptic solution
In the case of summer camp first aid kits, it is very useful to also include:
Insect repellants
Sunscreens
Products for water treatment
THE MEDICINES SHOULD BE STORED IN THEIR CORRESPONDING CONTAINER, AND EXPIRED MEDICINES SHOULD BE DISCARDED.
HEALTH CARE MATERIAL
Alcohol
Hydrogen peroxide
Sterile gauze compresses
Gauze bandages (of different sizes)
Elastic bandages
Tape
Band aids
Thermometer
Tweezers
Round-tipped scissors
EMERGENCY TELEPHONE NUMBERS
Emergency Service of the nearest hospital
Ambulance service
Toxicological information
Fire brigade
Local Police
Civil Guard
National police
A first aid kit should NEVER contain:
Expired medicines
Poorly preserved or identified medicines (broken cap, without a name, without the corresponding insert, etc.).
A thermometer that doesn't work
Rusty scissors or tweezers
Remember
YOU CAN ALWAYS ASK YOUR PHARMACIST IF YOU HAVE ANY QUESTIONS.

A first aid kit is very useful for minor discomfort or small accidents.

The kit should be well identified and orderly.

The medicines should be revised periodically.

The health care materials should be clean and ready for use when required.

IN CASE OF DOUBT, CONSULT YOUR PHARMACIST.

A first aid kit is a serious matter, though here we have a game for you. It will help you learn WHAT THE KIT SHOULD CONTAIN and not forget it.
Carme Capdevila and Mercè Estrada. Pharmacists